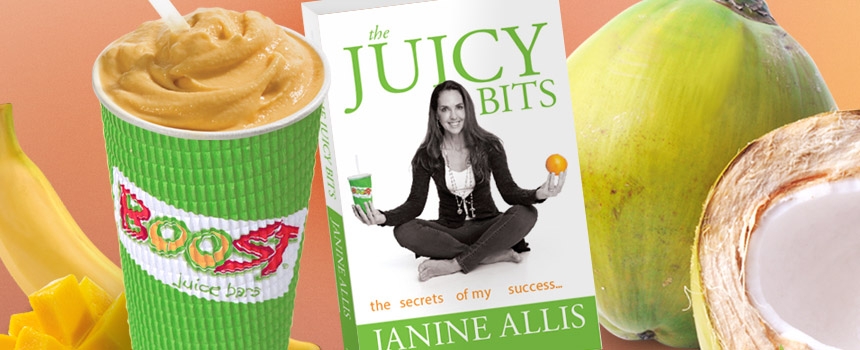 Janine Allis book release, The Secrets of My Success
And the story of BOOST Juice, juicy bits and all
Janine Allis, mother of four starts a new retail concept, it explodes and she rides the perfect wave. It was easy. Or was it?
In The Secrets of My Success Janine Allis tells the story of the creation of Boost Juice, a $250 million global business, and reveals her 30 secret recipes for business success. Janine shares her journey from a woman with no formal business training, to become leader of a business that has 280 stores in 12 countries (and growing). With humour, warmth and down-to-earth wisdom, this must-read reveals how a self-confessed 'girl from the burbs' built one of Australia's most recognised brands, while capturing the hearts of millions of devoted customers around the world with her unique love-life philosophy.   Janine gives the reader tips on business and life she wished she had known when she started her journey with Boost Juice 13 years ago.
The Secrets of My Success has something for everyone. Budding entrepreneurs, Boost customers who are curious about the business started, managers and business owners hang onto your seat as Janine divulges 30 secret recipes for success that will enable you to shape your own successful business strategies. In practical terms, Janine also explains how to hang on to your core values while building the right team, a unique approach to listening to your customers and how you can market like the biggest names in business.
For today's entrepreneur looking for non-traditional paths to success this book offers practical business and leadership wisdom combined with Janine's personal story. You'll also get the inside scoop into Janine's early years, from working as head stewardess on David Bowie's personal yacht in the south of France to becoming a single working mother at 25, and discover how Janine's heart for adventure and her determined approach led her to become Australia's most successful female entrepreneur.
"Writing the book was a fantastic walk down memory lane for me.   I seriously had no idea what I was doing or what I was in for when we started Boost Juice, but with hard work, lots of luck and great people around me, my dreams really came true.  The book is in many ways a how-to-find-happiness journal, it is written about a journey in business, but really it is a story about living your dreams, believing in yourself and what can happen when you find true love.  It is also a book about the evolution of a young, inexperienced yet determined girl growing into a wife, mother and businesswoman," Allis says.
About the author:
Janine Allis is Founder and Managing Director of Boost Juice, which is in more countries than any other juice bar in the world. Boost Juice is well on the way to achieving its mission of being one of the 'World's Most Famous and Loved Brands.'