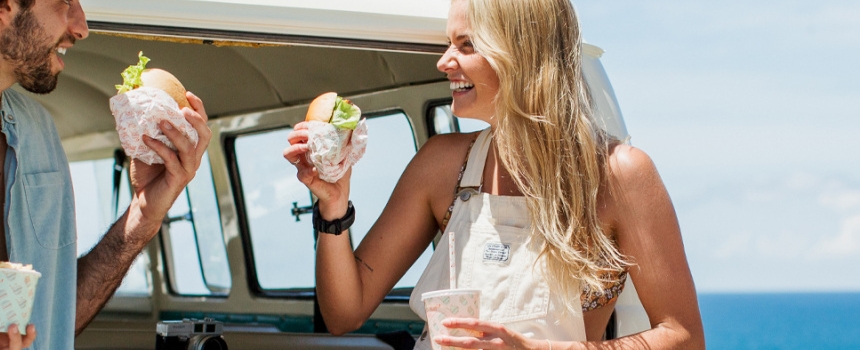 Two-for-one Burgers on Betty's Bestie Day!
Betty's Burgers has just announced its biggest burger day of the year – BETTY'S BESTIE DAY! On Thursday 5 May, all patrons can enjoy two-for-one LUXE burgers! YUM!
Thursday will mark the inaugural Betty's Bestie Day.
"This will be our inaugural Bestie Day where we celebrate friendship and burgers. Burgers always taste better with your Bestie, especially when there is two-for-one Luxe burgers on offer," said National Marketing Manager, Lyndal Guterres.
"We expect to be super busy as we know we are all hanging out to spend more time with our friends and family and this offer will only be once a year! There's no limit on how many burgers will be sold. We will keep serving our fans all day! Available for Dine In or Takeaway."
Currently, there are three Luxe Burgers available: The Betty's Deluxe, the Crispy Chicken Supreme, and the burger joint's newest addition: Betty's Classic Vegan.
The Betty's Deluxe includes a juicy Angus beef patty, topped with bacon, pickles, lettuce, tomato, onion, cheese, and Betty's special sauce. For a mere $15.50 you'll get 2 delicious morsels, an Instagram-worthy interior, all for a ridiculous price.
Switch out the Angus beef patty, onion, and pickles for crispy fried chicken, and bam! You have the ever-popular Crispy Chicken Supreme.
Finally, Betty's Classic Vegan is a delightful combination of tomato, lettuce, pickles, onion, spicy vegan mayo, and the Betty's exclusive crispy puff rice patty. At only $14 for the 2 , this option is also sure to put a smile on your best mate's face this Betty's Bestie Day.
Betty's Burgers first arrived in Adelaide in December 2019. This Noosa beach inspired burger restaurant features fresh décor, reminiscent of a bougee beach shack.
While you're busy diving into the delicious luxe burgers on offers, don't forget to try out Betty's old school ice creams, made with their exclusive frozen custard plus they have plenty of beverages on hand including their exclusive Betty's Beer from their friends at Pirate Life.
Betty's Burgers has two restaurants located at 211-215 Rundle Street, Adelaide 5000 and 194 The Parade, Norwood 5067. OPEN til 9:30pm.
Source: https://glamadelaide.com.au/two-for-one-burgers-on-bettys-bestie-day/