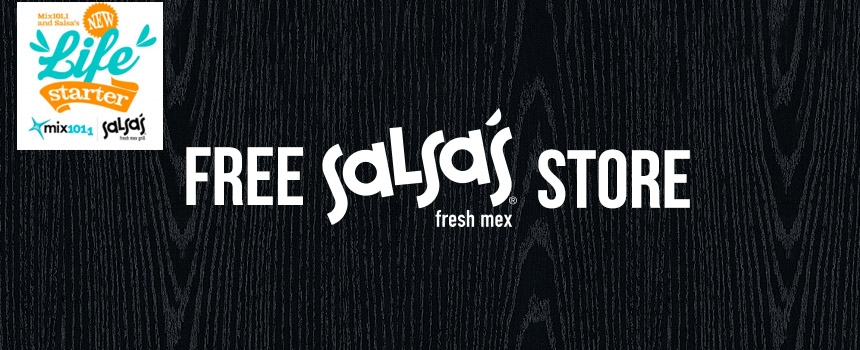 We're giving away a Salsa's Fresh Mex store
WORK NOT WORKING? BE YOUR OWN BOSS!
WE'RE GIVING AWAY A SALSA'S FRESH MEX STORE
Salsa's Fresh Mex and Melbourne radio station Mix101.1 have today launched a new competition – the unique opportunity of a new life start – by winning the keys to the Salsa's Fresh Mex store, located at 276 Bridge Road, Richmond, Melbourne.
Listeners to the radio station can join thousands of Australians who have taken control of their own destiny, and live the great Australian dream of running their own business. The winner can count nachos, burritos, tacos, beans and the profits by making a fresh start as his or her very own boss. Salsa's general manager Jake Spencer says getting a kick start like this is not an opportunity that comes along every day.
"Handing over the keys to a successful small business is a huge undertaking for us, and for the winner of the competition. We're putting our trust in someone to be responsible for running a Salsa's in a busy, inner city location.
"We're looking for someone who really wants a new start in life. Someone motivated, energetic and hungry for success. And someone who is infatuated with Mexican food. May the best man or woman win!" Spencer said. Contestants can enter as an individual or as a pair with a business partner, mum, dad, brother, sister, work colleague or amigo. No experience in the food industry is required.
Finalists will be put through their paces at Salsa's Camp on 23 and 24 November – a weekend where the contestants will learn more about running a Salsa's store and undergo a rigorous interview process to see if they make the cut!
"Senors and senoritas, do yourself a favour and sign up for this once-in-a-lifetime opportunity – fast! Ditch the annoying boss and endless emails for delicious fresh Mexican, a sneaky siesta every now and then, and a new life as your own boss!" said breakfast hosts Chrissie Swan and Jane Hall of the six-week Melbourne metro radio campaign.
"We are thrilled to partner with Salsa's to give away this incredibly unique prize, that will no doubt spice up the life of one lucky listener!" said Mix101.1's Content Director Brendon Dangar. The winner will be announced on Friday 29 November by Mix101.1's Chrissie & Jane at a live broadcast from Salsa's Bridge Road, Richmond store.
Salsa's is the largest fresh Mex brand in Australia with 46 stores around Australia. Salsa's prides itself on serving up fresh, flavoursome Mexican food people can't get enough of, serving more than 3 million customers last year alone.