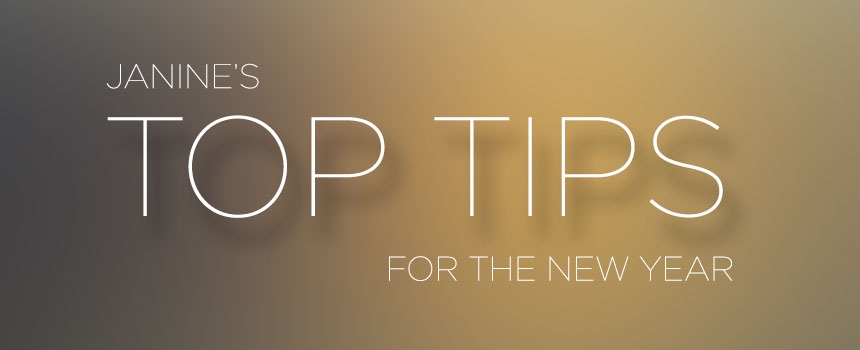 Janine Allis' top tips for the New Year
Have you noticed how the crazy relative stories increase around Christmas? You know; the one about the aunty who is a crazy cat lady or a grumpy brother-in-law who quietly drinks himself to sleep? We've all made it through the silly season…just. Here, Boost Juice founder Janine Allis gives her tips on how to start 2014 the right way.
"We are all perfectly imperfect, that is why there is nothing wrong with eating and drinking too much over the holiday period. But the perfect time comes after, when we need to replenish the body and mind and start the year the right way," Allis said.

Add a green smoothie or juice to your morning routine
It's easy and it's seriously healthy. Green smoothies and juices are an easy way to increase your daily intake of fruit and vegetables. And they taste great!
Love life!
Seize the day, grasp the minute, take a breath, embrace the future, make that change, take on the world, or maybe just start with a smile!
Challenge yourself to go for 2 and 5 everyday
We all know that vegetables and fruit should make up the majority of our diet (not just add colour to the side of our plates). Diets rich in fruit and vegetables make us feel great. Come on, we all know what we should be doing; we just need to move our focus to eating and being healthy. If you choose this path, try Boost's green smoothie which provides at least one serving of greens, and at least two servings of fruit. I know I know, it sounds like a sales pitch, but the reality is, that if you do have juice every day you will feel the difference. Even one you do at home…
Don't believe the hype!
Make 2014 your year for not falling for the latest diet craze. You know what's healthy, so stick to that (at least most of the time). Forget low GI, low fat, low sugar. Go for low HI, which is low human intervention. Simply eat food that is as raw as possible, you can be guaranteed that it is full of nutrients that the body needs. If you pick up a packet of something and there are numbers and words you cannot pronounce, put it back. Seriously, that is not food.
Drink more water
Yes, we've all heard it before, but drinking water makes up for many of our sins.
Exercise
It's not just about weight loss. Exercise regularly. Who knows, you might end up actually enjoying it! In my 30's every waking minute of the day I was thinking about Boost and how to make it better. I thought I was healthy but my stress levels were through the roof. I turned 40 and started a traditional Ashtanga yoga practice. Physically, I have a strong and toned body, and mentally I'm stronger, with clarity of thought and I'm being a nicer person.
Be perfectly imperfect
It's OK to eat too much, to stay up late, to feel rubbish over Christmas and New Year. If you fall off the wagon, jump back on.
Happy New Year everyone. Love Life!
Media enquiries:
Lisa Bond, publicity manager, Boost Juice
0408 830 829 / lisa.bond@retailzoo.com.au
www.boostjuice.com.au/
@boostjuiceoz @janineboost
www.facebook.com/boostjuice