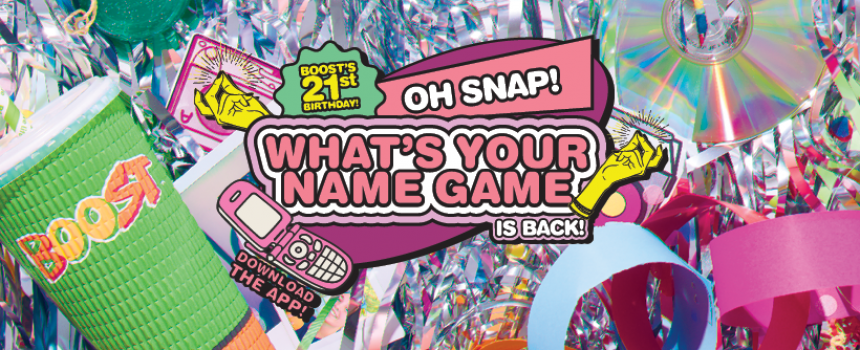 OH SNAP! BOOST JUICE CELEBRATES ITS 21ST BIRTHDAY BY BRINGING BACK ICONIC "WHAT'S YOUR NAME GAME"
To celebrate its 21st birthday, Boost Juice is calling on Aussies to bust out their flared jeans, Tamagotchis and favourite So Fresh! tunes, bringing the noughties back with a Boost Juice fan favourite – "What's Your Name Game".
A legendary game amongst long term Boost fans, What's Your Name Game sees two names randomly drawn each day throughout the promotional period of Monday, 17 May to Friday, 28 May, awarding anyone with their name drawn with a FREE Boost Juice in the app. Yes, you heard us right, a FREE Boost Juice!
Whose name will be drawn next is a mystery, however each day's winning names will be announced every morning at 6am via the Boost Juice social channels and Boost Juice app.
To join in with the retro celebrations, Boost Juice fans will need to download the Boost Juice app and register as a Boost VIBE member and verify their accounts a day before.
Vouchers will be redeemable for 24 hours from the time each name is drawn and will be automatically allocated to anyone with the lucky names.
But what about those with similar names to the one drawn? There is no missing out! Boost Juice will be including variants of the drawn names to ensure everyone can join in their 21st birthday fun.
An early noughties game with a modern twist, the Boost Juice team is excited to bring back this iconic Boost game.
"What's Your Name Game is a classic at Boost Juice. It's all about giving something back to our customers for just being themselves – and what better time to do that than in celebration of our 21st birthday," said Boost Juice National Marketing Manager, Lucy Duvnjak.
"We are so excited to recreate the 000s fun with long term Boost Juice fans, as well as introduce the game to our new customers. We know it has been a fan favourite and we know everyone will enjoy this throwback."
What's Your Name Game will be running from Monday 17th May and Friday 28th May and is only valid through the Boost Juice app during local store hours.
For more information and terms and conditions, visit boostjuice.com.au/WYNG
– ENDS –
For further information please contact:
Lucy Duvnjak, Boost National Marketing Manager
lucy.duvnjak@boostjuice.com.au  M: 0476 833 393
Website boostjuice.com.au | Facebook boostjuice | Twitter @boostjuiceoz | Instagram @boost_juice