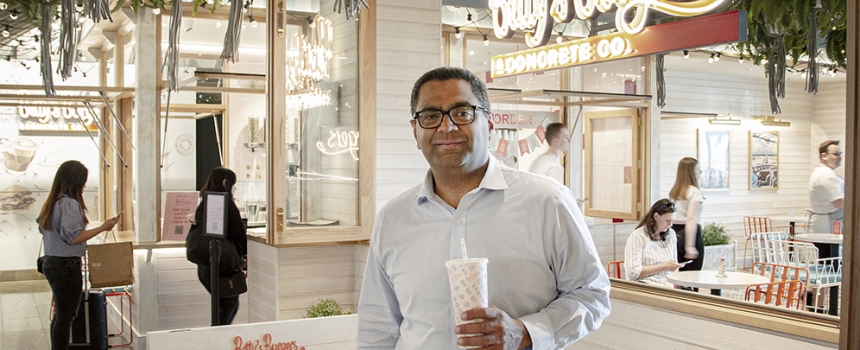 Retail Zoo is getting a post-pandemic boost from predictive analytics
Chief executive Nishad Alani details his thoughts on growing the domestic business, how the company's digital assets are being maximised and why he remains skeptical about cloud kitchens.
Retail Zoo chief executive officer Nishad Alani said its domestic business has been able to "fully recover" from COVID-19, confident they are back on a strong growth trajectory that will see them open at least 30 stores on an annual basis.
"We've been able to, I think, successfully weather the storm. We've obviously had some ups and downs but we have now fully recovered. Our sales are now higher than they were a year ago, as well as two years ago," he told QSR Media in an exclusive interview.
20 of these will be Boost Juice bars whilst ten will consist of Betty's Burgers restaurants. A potential one to two Salsa's Fresh Mex Grill outlets or CIBO Espresso cafes will also be considered.
"I'm very pleased with our team because opening 25 outlets over the course of a global pandemic is, in my opinion, an outstanding achievement."
Alani, who experienced multiple recessions when he lived in other countries, said they were able to "quickly" recover by being the "last man standing" during the height of the lockdowns: adding incentives for franchisees to stay open whilst complying to state guidelines on safety and cleanliness.
Stores were renovated, those that were unprofitable were closed, and the business model as a whole was examined to improve profitability.
Retail Zoo spent almost $2 million in royalty relief and incentivising franchisees complimentary products to remain open, Alani revealed.
"We're not hibernating, we're not going to give up, and our customers will recognize us for that," he recalled.
"Most Australians have gone through 30 to 40 years without ever experiencing a recession. So what I felt was that a lot of our competitors were not moving at the same pace…whereas we took the approach [that] this is going to be a bigger issue."
Alani said they saw it was an opportunity to streamline parts of the business and offer a "great experience" for customers able and willing to spend.
Big investment in training, technology-driven synergy
Retail Zoo's domestic expansion will be coupled with investment in staff training, including interactive tools for team members. Alani said he anticipates challenges in acquiring labour, at least in the short term, with Australian unemployment rates dropping to 5.8%.
"We want to make sure we're providing greater opportunities for our staff," he said. "What I've always found is people companies—when they need to take shortcuts, and when they need to go save money—they cut on training, and they cut on people-related expenses. This is actually where we're going to make our big investments outside of technology."
Part of a tripartite approach to tech, Alani said the business is "getting into" predictive analytics, leveraging artificial intelligence tools to better understand "not just what was happening, but what will happen in terms of spending patterns and eating habits."
He also credited the business' use of analytics in enabling them to capitalise on consumer trends they observed, such as a return to indulgent and premium items and more demand for vegan options. Trends, he said, that they are looking to further integrate in their brands' offerings.
"People were cooking their meals at home, and they were eating fast food because they weren't sitting down in the restaurants. Now we're kind of in our sweet spot because we can offer takeout experience with Boost and we're really capitalizing on renewed desire to dine out with Betty's Burgers," he explained.
"So we're starting to see a nice lift in our sales…Now, you're going into something a little bit more premium."
"The beauty of our business is behind the scenes, everything is well-integrated. We're able to see the synergies across our digital assets, we're able to see synergies across our procurement and all of our back-end infrastructure," he added.
Despite Retail Zoo's reliance on tech, he remains skeptical on cloud kitchens and virtual brands, arguing that people "still want an experience of going out and eating out with brands they trust."
"Unless you're getting a very attractive commission rate from the delivery aggregator, it's not going to work," he surmised. "Amazon lost money for many, many, many years until it finally made money. And obviously now it's one of the most lucrative and most profitable companies in the world. But it took a long time. That's probably the journey I see with these virtual kitchens and cloud kitchens as well. I think it's gonna take a lot longer than people think."
Grocery channel growth, acquisitions eyed
Alani said the business is looking to grow in the consumer goods space with additional juices, noting that their grocery channel is up 15 to 20% over the course of the last 12 months.
"When people were really wanting something nostalgic, some level of normalcy, they were really coming to our brands."
Internationally, he expects the 250 Boost Juice bars to recover in three to six months, depending on the progress of the countries' varying vaccination rollouts.
On potentially bringing back plans for a public listing, Alani said the matter is "something really for the owners to worry about."
Acquisitions, however, remain on the menu, with Alani eyeing "popular" food & beverage concepts preferred by their 18-to-35 key demographic but "lacking" digital technologies, back-end systems and business intelligence that can "take it to the next level", citing Betty's Burgers, where he says have grown sales from $15 million to a $100 million over four years.
"We're always looking," he said.
Source: https://qsrmedia.com.au/executive-insights/in-focus/retail-zoo-getting-post-pandemic-boost-predictive-analytics