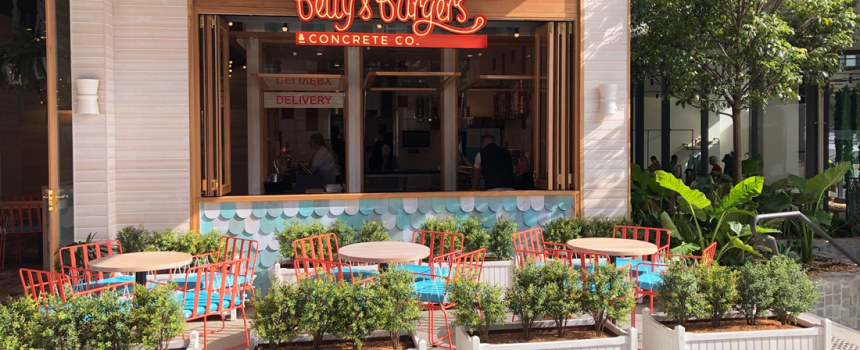 West Village welcomes a new coastal-inspired outpost from Betty's Burgers
We love surprises – especially surprise parties! Oh, we love surprise openings too, so you can imagine our delight when we heard that Betty's Burgers had opened a new location at West Village yesterday, Wednesday June 23, and that it was hosting a weekend-long bash to celebrate. Fans of Betty's bang-on burgs and ice-creams are encouraged to mark July 9–11 in their calendars – there ain't no party like a Betty's Burgers party because at a Betty's Burgers party we get the gifts.
New openings at West Village are coming in thick and fast – this week the thriving West End lifestyle precinct added Noosa-born burger slinger Betty's Burgers & Concrete Co. to its growing roster of eateries. With locations popping up all over Brisbane, it's likely that Betty's Burgers needs no introduction. The beloved dispensary of smash-patty burgers, decadent frozen custard ice-cream and custard-based thick shakes has brought its full menu and 1950s-inspired beach-side shack aesthetic to West End, joining the ranks of Cheeky Poké Bar, Beirut Bazaar and Harris Farm Markets as part of the hub's dining precinct.To celebrate the arrival of Betty's Burger to the West Village fold, the crew will be hosting a Betty's Village Party from Friday July 9 to Sunday July 11, with a host of gifts on offer for those that swing through over the weekend. Every guest (yes, we mean every single one) will receive a free ice-cream in their choice of cup or cone. The Betty's crew is looking to spread the good word about the importance of bee populations in our ecosystem, as such Bee One Third's West Village neighbourhood honey is being offered as an optional topping for all ice-creams. Betty's Burgers has also teamed up with Pirate Life beer to create a Village Beer that will only be available over the weekend. These sips will cost only $5 a pop and will come with a free limited-edition stubby holder, which means you're practically making money in this deal. Finally, we suggest bringing a pal, as Betty's is offering two-for-one on its range of luxe burgers, including the Betty's Deluxe, Crispy Chicken Supreme and Classic Vegan burgers.

Betty's Burgers West Village is open now – head to the Stumble Guide for operating hours, but be sure to drop in between July 9–11 for Betty's Village Party.
source: https://theweekendedition.com.au/food-drink/bettys-burgers-west-village/